Adding the PlayMetrics app to your mobile device

If you are using an Apple or Android based mobile device, PlayMetrics offers an app that allows you access to the PlayMetrics system, including mobile push notifications. To install the app, follow these instructions below.
To learn more about mobile messaging and alerts within PlayMetrics, see "Understanding PlayMetrics Communication Tools."
For Apple Users
Simply go to the Apple App Store and download the free PlayMetrics app (https://itunes.apple.com/us/app/playmetrics/id1450640824?mt=8). Once the app is installed, just log in using your PlayMetrics account email and password.
Tip: We recommend you also download the free Google Maps app for viewing an Event's location. See "Viewing an Event's location in the PlayMetrics app with Google Maps."
For Android Users
*We strongly recommend you use the Google Chrome browser for this process.
Android users should install the app directly from the PlayMetrics website. Simply go to a Chrome browser and log in to PlayMetrics at www.playmetrics.com. Upon login, you should see a notification to install the app. Select "Add PlayMetrics" to home screen and confirm.
If for some reason you dismiss the download prompt, select the three dots (⋮) on your mobile browser. This will bring up the browser menu. Select the "Add to Home screen" option.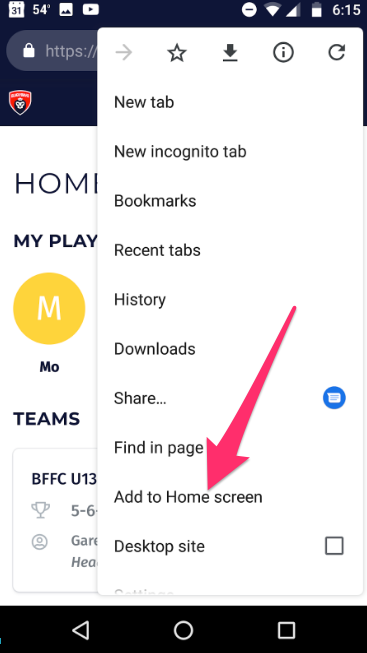 Close your browser and log in to the PlayMetrics app. Going forward, for both Apple and Android, your mobile phone will use the app for all PlayMetrics information.
Note: if you aren't getting push notifications, check your notification settings. You can learn more about communication preferences by reading the article Setting communication preferences.